#MONSOON2019 #MSUPDATE 1.2.2
STREAM INVEST 93A
CYCLONE VAYU FORMATION
Latest Satellite Image
As the persistent potential convergence (ITCZ) emulates with weak wind shear and sustained high Sea Surface Temperature (SST) in south-east Arabian Sea, the cyclonic circulation was formed off the coast of Kerala by late Friday – 7th June; which later continued intensifying into Low Pressure Area (LPA) during next 48 hours of its formation which then was named "Invest 93A" as being the area under observation. The Low Pressure Area while following north-northwestward (NNW) direction, it intensified rapidly into Well Marked Low Pressure then Tropical depression in its further next 24 hours (by 10th June –  Monday).
Wind Shear Activity Map
Invest 93A (993 mb) exists in Arabian branch – an area of favourable vertical wind shear (28 kmph – 35 kmph) and SST (30°C – 31°C). Therefore following such favourable parameters the Tropical Depression (current unsustainable maximum wind gust: 92 kmph) is likely to convert into Tropical Storm (<984 mb) within next 24 hours. 
Low Level Winds and ITCZ Representation
The Somalian currents sending pulses, SST in central Arabian Sea (29°C – 30°C), vertical wind shear and enhanced convergence suggests that an area of observation 'Invest 93A' will attain the tropical cyclonic category 3 with wave height 6 – 7 meters in eye's core. However it would slightly weaken while reaching the coast (either of Gujrat or Sindh) due to slightly cool SST (29) and wind shear factor.  
Invest 93A on its transformation into cyclone will be named as Cyclone Vayu' by Wednesday (Vayu' generally means for 'Wind' and in Hindu scripts it is the name of the 'Lord of Winds') and made landfall on Sindh-Gujrat coast or dissipate in open northern seas after reaching its peak intensity, unlikely.
CYCLONE VAYU TRAJECTORY
Forecast
–   Parametric Overview
The tropical storm, formed within 18 hours, will follow northward movement in its initial intensification state later tilting slightly north-northwestward (as Cyclone) – dependent on High Pressure positioning in Middle East and Madya Pradesh (central India). Hence cyclone will loose intensity before if it landfalls on Sindh coast due to slight bad wind shear factor.
The latest factors are indicating seasonal Low/Mid-Level Circulation (LLC) formation over Uthal (adjoining SW Sindh) region and its availability as 'stationary' weak induced anti-clockwise circulation over south-southwest of Karachi. At the same time another weak cyclonic circulation would be over Oman-UAE region. The relative low pressure zone in southern Sindh-Balochistan region will slightly attract Vayu' and the presence of High Pressure over Madhya Pradesh and eastern Gujrat region will thresh Cyclone Vayu' to continue its movement in north-west direction (towards Sindh coast) rather than making landfall on Gujrat. The probability of the above defined scenario is relatively high, however changes are possible.  
Another illustration is the cyclone Vayu's dissipation or western movement due to dipping of middle-eastern high pressure ridge in contrast with HP over central India (not supported by major forecasting systems).
Conclusion:  
There are three supposition:
Destructive cyclone Vayu may hit Gujrat coast with peak intensity by Thursday/Friday and cause flooding rains there (major chances : about 70%). However cyclone Vayu' may act as cyclone Fani, tilt towards Sindh (as WML) after making landfall in Gujrat.

Cyclone, after loosing some intensity, may hit Sindh coast by Friday/early Saturday and cause destructive situations in coastal regions (minor chances).

Cyclone Vayu', after reaching off the Gujrat coast, may pivot westward and made landfall on Sindh-Gujrat border in weaken state. 
– Karachi (Sindh Coast)
Karachi will bare muggy (warm+humid) weather between Thursday and Saturday, temperature reaching 37°C – 38°C and heat index even much higher. The wind directions will be changed by Wednesday, blowing from east or north-east most of the time. 
Karachi may witness its first pre-monsoonal moderate to heavy downpour this week. We are expecting Well Marked Low Pressure (WML) to affect Sindh coast, in case of landfall in Gujrat. 
Authorities must be kept on 'red alert' to take necessary  precautions for dealing with possible cyclonic threat. Fisherman and laymen are strictly advised to refrain from going into seas between late Wednesday to late Saturday. 
-Monsoon Advancement
Either cyclone Vayu' makes landfall on Sindh-Gujrat coast or dissipate in an open seas, it would have already push convergence northward – making path for rapid monsoon advancement.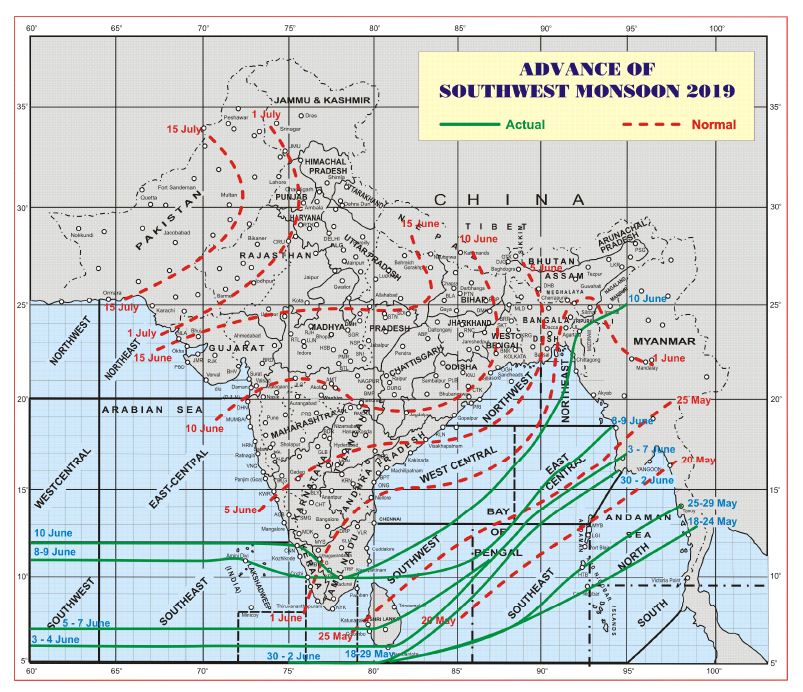 Source: IMD
However Vayu' will result in 'less rainfalls' for south India but it will push monsoon pulses northward promising pre-monsoon activities in Pakistan as well as in western & northern India.  Monsoon (as of 10th June) has onset over South India, Srilanka, Burma, eastern Bangladesh and SE BOB islands with +10 days error. As the result of cyclone Vayu'; the northward ITCZ shifting would fasten monsoon advancement in the region and may also overcome positive days error in advancement.
Timely Alerts/Updates Shall be Issued on PakWeather's Facebook Handle